The number one question asked of me is "Where did you get the money to start your business?" You can imagine the strange "silence" I often get when I tell people how the birth of Griot International, LLC was different from most startup businesses because I started with 0 capital. That's right! I was able to open up a brick and mortar bookstore, publishing office, and website design office with absolutely no money, loans, fundraisers etc. As the CEO and founder of Griot International, LLC since 2007, I can testify that ANYTHING is possible if you set your mind to it, sprinkled with perseverance and determination.
I will admit that my story is not the norm, however, it is by all accounts the truth (scouts honor). I will be the first to admit that it is much harder to start a business without capital but it's possible. I decided to share this article with those of you who are having the hardest time getting started due to the lack of funds. Although I did not use grants or loans to start my company, they do come in handy when you just can't seem to jumpstart your business without a startup fund.
Did you know that (according to BlackNews.com) hundreds of black and minority-owned businesses receive grant funding from various government agencies and nonprofit organizations? These grants are known as "free money" and are awarded in the form of several types of funding. I remember a woman (we will call Nancy) who applied for and received some sort of "free money" in the amount of $50,000 several years ago. I knew that this money existed, but couldn't afford the fee that Nancy's grant writer was charging up front.  Because I didn't have startup money or money for a grant writer, I literally sat in the front seat of Nancy's car and became an eye-witness to the cars she purchased. I also accompanied her on many trips to  every thrift store within 20 miles of her house as we shopped for items for her new business. Because I didn't have access to a grant writer, I didn't know how to apply, where to apply, how much I qualified for, or even where to get an application for the "free money".
Free money is available to entrepreneurs and must be used to either start a new business or to assist with an existing one. 
To learn about more 2016-17 business grant programs, visit www.BusinessGrants.org.
Here are the top 10 business grant programs available for Black Business Owners and Entrepreneurs:
1. The FedEx Small Business Grant Contest is a nationwide competition that will award $50,000 in total to six deserving U.S-based entrepreneurs and business owners.
Award Amount: Up to $25,000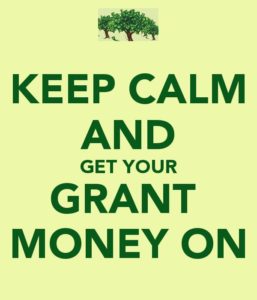 Deadline: Usually in February
2. The National Association for the Self-Employed (NASE) Growth Grants Program allows business owners to apply for financing a particular small business need. Past recipients used funds to purchase computers, hire part-time help, and create marketing materials.
Award Amount: Up to $5,000
Deadline: Ongoing
3. The Dare to Dream Grant Program encourages students to move through the business creation process by offering business development seminars and up to $10,000 in funding.
Award Amount: $500 – $10,000
Deadline: Every September and January
4. Caleb Brown Community Business Grant Program is a venture capital firm that provides access to "seed money" and business grants to assist urban professionals with starting businesses and rebuilding the community.
Award Amount: Up to $150,000
Deadline: Varies
5. The Small Business Administration (SBA) administers several competitive business grant programs, ensuring that the nation's small, high-tech, innovative businesses are a significant part of the federal government's research and development efforts.
Award Amount: Varies
Deadline: Varies
6. The Minority Business Development Agency (MBDA) organizes various angel investors with the primary objective of supporting minority businesses with mezzanine and second round financing.
Award Amount: Varies
Deadline: Varies
7. The Rural Business Enterprise Grants (RBEG) Program provides grants to finance the development of small and emerging businesses in rural areas. The funds can be used for land acquisition, construction, renovation, technical assistance, project planning, and more.
Award Amount: $10,000 – $500,000
Deadline: Varies
8. The Huggies Mom InspiredGrant Program awards grants and business resources to moms to further the development of original product ideas and startup businesses.
Award Amount: $15,000
Deadline: Varies
9. Microsoft Workforce Software Grants Software giant, Microsoft, supports IT training and workforce development in urban and underserved communities. They give cash grants and software to non-profit community technology centers around the world.
Award Amount: Up to $15,000
Deadline: Varies
10. The Small Business Innovation Research (SBIR) program provides grant funding to small businesses to engage in biomedical or behavioral research/ development that leads to a potential for commercialization.
Award Amount: Varies
Deadline: Varies

To learn about more 2016-17 business grant programs, visit www.BusinessGrants.org.
Go Girl Go! 2016 Directory of Grants, Scholarships, and More for Women
Go Girl Go! is an extensive compilation and directory for WOMEN OF ALL ETHNIC BACKGROUNDS in the United States. It reveals how to get FREE money and funding from government agencies, non-profit organizations, and major corporations. Download the e-book for $4.95 today!